Dummies Guide To Digital Marketing – By A clickTRUE Intern
Maybe not called an internship, since I was only here for about 10 days or so, but it definitely is an experience that I would not have had in the dull classroom of the junior college I am in. Honestly, I didn't do much to help Jereme or the company, but this is my 2-cents worth of what I have gleaned during my time here, and hopefully will inspire potential clients out there or just IT lovers to be keen in working with clickTRUE.
Being an IT idiot, (really) I wanted to learn and gain new insights about the cyber world and the online business in the media. So before I could embark on any mini projects I can help research for the company, I have to first understand how online marketing works. Such may seem simple, with just advertisements all around your Facebook page or whatever you're searching on Google, but it definitely has loads of Greek to it as well, which thankfully, I manage to understand:)
This is the first part of my takeaways where i will talk about what i have learnt about captivating your audience online, and the 2nd part would be about what i thought would make a good user experience online, as well as professionalism needed in digital marketing. Not sure if any of you readers would be interested to hear from an amateur, but i hope you will be inspired in one way or another, that there are hopeful students out there like myself who really appreciates all these i have learnt, and i really wish to share:')
Here are my takeaways!
Chapter 1 – Insights to captivating the reader/ a great facebook page?
What these people here do would be using their expertise and experience to provide the best user experience for you on the web and through advertisements, before you may even take a peak of the web. One such example is simply how you can create a GREAT FACEBOOK PAGE to captivate your reader. Sounds simple? I mean, almost everyone you say hi to have a facebook account, want to do a campaign just create facebook page luh!
This was exactly what I thought too. However, social media marketing skills are actually one of the most important, and rather difficult, tools that should be mastered properly for any sort of awareness campaigns or projects you want to embark on to secure success rate for your campaign.
HOW?
#1: Familiarize yourself with Social Media 'guidelines'
Did you know how Facebook keeps track of individuals' details that we include in our "About You" segment of your page which help advertisers target the different audiences they wish their advertisements would be placed under? Well, if you wish to do any form of advertisements, you should know your target audience and what they like, to improve your influence among your target group and even their friends on FB, since sharing and liking now are positively overrated
Retweeting and Instagram-ing are also useful ways to expand your circle of people knowing about your day-to-day doings and promotions you wish to promote to your audience. Hashtagging is an example of a guideline anyone needs to know in order to best create viewership on twitter.
#2: Engagement Tools
Simple, non professional tools include the number of words of your posts, the pictures, albums and videos you post, which actually do affect your influence on FB! Did you know, your posts should only be restricted to 240 characters, which will gain about 60% engagement from the viewers. Individual photos put up is not as engaging as a whole photo album uploaded, which can account to about 80% engagement. Videos are definitely more interesting and can account to about 90% engagement.
#3: Get A Landing Page
Imagine you are a little fish in a big ocean. Yes just do that and you'll understand. There are many different small ponds expanding out from the ocean if you pass through the different routes. You swim into one river, hoping to find more food and prey to eat. However, you enter into one small pond, and realized that pond is too huge and it is so difficult to search for food there. And hence you leave that pond and never want to go back there as you know it may not be the best pond to be in and so you go into other ponds. When you swim into another pond, you realize there's a river before the pond, which has different signs and directions to lead you to different parts of the pond you're heading towards (just imagine there are signs okay) and you know you want to eat shrimp and hence you go through the path where it leads you to shrimp only. The route to eat the shrimp was very captivating as it tells you the different kinds of shrimps you can eat and the best shrimp you can get from this pond. So after eating the shrimp, you will always want to keep eating from this pond, and even recommend other fishy friends to eat shrimp from this pond.
Not sure if you understand my layman's term of telling you the Greek in landing pages, but its simple. The ocean is the cyber space, where there are many websites from it. Normally, when you want to find a certain something on the web, you enter a website the seems to give you what you want, but in the end confuses you with the many other things related to what you are searching for on one website, and it becomes a chore trying to search for what you want on the site. A landing page however, is a river that directs you to exactly what you need on the site before reaching the site, such that it captivates and enlightens the reader to want to know more even before knowing what the site has to offer, just like all the information of shrimps the fish learnt from swimming through the river before even eating the shrimp in the pond.
An example would be a landing page like this, which differs from the original site.
So on a facebook page, you can implement a landing page/pop-up thingy before viewers can view your page, such that it focus the audience to promote a focused messaging which will bring about more great actions!
#4: Building Your Brand Engagement with Social Media
Do understand that how you raise more awareness of your page or site is through the number of shares and likes the viewer clicks, which will totally expand the wide spectrum of viewers to your page to know about what you're doing.
– Build a relationship with the viewer by posting things ABOUT THEM and telling them WHAT'S IN IT FOR THEM, instead of it being all about your service/product/campaign
– For example if you want to raise awareness of promotions of your company, what about creating a game on a facebook app to increase awareness through a game?
How Noisy Crayons (subsidiary of clickTRUE) does for some of their campaigns would be to continuously lure viewers to play the games/lucky draws which create high quality visuals and increase attention span of viewers such that they become addicted to the games to WIN – an incentive to any potential customer.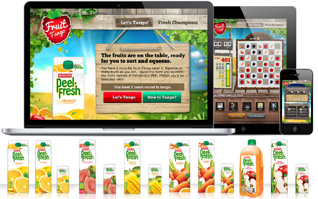 The more it appeals to the viewer, the more the likes and shares, the more viewers you get. Simple logic:)