2 Tested & Proven Online Advertising Channels for SMEs: Google & Facebook Ads
Mark, the skinniest gym owner you'll ever meet, is back!
(Opps… Sorry Mark, you weren't supposed to hear that.)
If this is your first time meeting him, you can get to know his story here.
Mr Skinny Mark is feeling great because he has a swanky landing page that can sell like his top salesman. (Psst… check out our previous blogpost to find out how he did it!)
But, what use is a landing page if nobody views it?
At first, Mark wanted to use SEO to get more traffic.  He thought that once it was set up, he would have a steady flow of free traffic!
But then, he remembered his wise agency friend told him…
SEO wasn't suitable for him because it is extremely time consuming, he has to build a lot more content for it to be effective.

Mark decided to follow Jackie's advice.
He got down to work and researched about the various online marketing channels available today.
Mark, being overly zealous, wanted to invest in all of the online marketing channels available.
Uh oh, so what now?
… That's right you guessed it!
Marketing Superman, Jackie swooped in to correct his mistake. 
(Seems like he is in his commoner disguise today.)
If you are in the B2B business, Jackie suggests that you try out Google Search and LinkedIn.
But since Mark is in the B2C business, he decided to build a presence on Google Search and Facebook first.
Google Search
What is it?
Google Search is what companies use to have their website featured on the top, sides and bottom of a search results page.
It uses keywords, aka what the user searches on the search engine. Your ads will only show up for the keywords that you buy.
If you are like Mark and haven't heard of Google Search, you've probably heard of search engine marketing (SEM) right?
Evidently, Google knocks off the competition as far as search engines go, so we can actually use "Google Search" and "SEM" interchangeably.
Mark did a quick google search for "gyms in Singapore", and saw that many of his competitors are already using Google Search!
Why is it awesome?
Plenty of exposure. After all, you are going to be at the top of the search results of the world's largest search engine.
It is targeted. Your ads are shown to people searching about you, so you are reaching out to those who are already interested. Also, there are also plenty of targeting options available to control who sees your ads – making your marketing dollar much more efficient.
It is measurable. You can see exactly how much you are getting from your marketing dollar. In fact, if done right, an ROI like this is definitely achievable.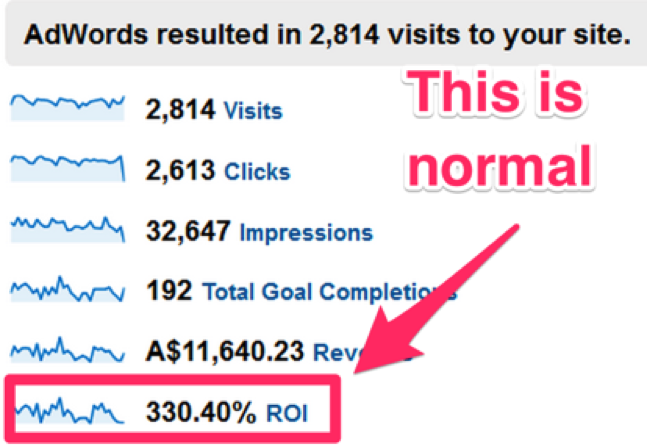 (Image from Neil Patel)
It is instant. Unlike SEO that will take weeks or months to kick in, Google Search can drive traffic for you instantly.

Why is it
not
awesome?
Increased competition. With more and more people jumping on the SEM bandwagon, the cost per click is going to go up, up, up. You also have to work harder to make your ads stand out.
It is easy to lose money if not well managed. Due to the plethora of targeting and optimisation options available, it is hard for a business to D.I.Y their Google Ads campaign without the relevant experience and expertise. Even after the campaign is set up, a lot of time has to be committed to monitoring to see what works and what doesn't.
(That's why some businesses choose to get the help of digital marketing agencies like us!)
With these in mind, Mark set up his Google Search ads.

Facebook Ads
What is it?
Facebook is the one social platform even your ah ma knows. Facebook advertisements are essentially the display ads on a user's Facebook.
Check out what Mark did up!

Why is it awesome?
It is easy to drive awareness. Over 20% of the world population is on Facebook, that is 1.86 billion users. If you are just starting out, Facebook is an obvious choice.
It is targeted. Facebook allows you to target based on demographics, location, interests and user behaviour. Remember creating a buyer persona with Mike on our previous blog post? Facebook ads will reach out to those who fit the persona, making your marketing more value for money. (Not clear what are buyer personas and how to create them? Check out our Ultimate Inbound Marketing Guide to Buyer Personas for Better Sales & Smarter Marketing)
It makes use of visual elements. Unlike Google Search, Facebook allows you make use of images and videos to enhance your ad. People are visual creatures. Having a catchy image or interesting video can making your ad more compelling and persuasive.
It is affordable. Considering the reach and targeting options it provides, Facebook is remarkably affordable with a minimum cost of only $1 daily. In fact, the people at Moz found that Facebook has the lowest cost per 1,000 impressions. This makes Facebook ads very suitable for SMEs with limited resources.
Why is it
not
awesome?
It is hard to get noticed. A typical Facebook newsfeed is so cluttered and oversaturated with ads, that it is hard to stand out and vie for attention.
Time and effort are required to optimise your campaigns. Although it may seem like you can forget about your Facebook ad after it has launched, that is not true. If you fail to manage it properly, it might cost you, though less so than Google Search.
Conclusion
Now you know about the pros and cons of Google Search and Facebook marketing, Mark has a question…

Which one really depends on your business, product and audience.
Go for Facebook if you have a well-defined audience and something with visual appeal.
Go for Google if you want to stand out from your competition and attract prospects who are already keen to buy.
Go for both if you want to have the best of both worlds. (Of course, this means more time and resources to be invested.)
With all these in mind, Jackie left Mark another tip.


What does he mean by that? And how do you determine how many leads you have?
We will explain it all in our final blog post about monitoring and optimising your campaign.
In the meantime, feel free to leave a comment or your contact if you have any doubts about Google Search or Facebook Advertising that we can help with.
If you want to meet clickTRUE to get leads now, click here.