Helping People To Buy Is the Best Way To Sell
Think about it — When was the last time you felt frustrated receiving a cold call on a service you didn't need, or an email about a product that you didn't want? Did you quickly hit 'unsubscribe' in a huff?
Buying behaviour has changed, and so has the buyer's journey.
A more sustainable approach is to put your customers first by constantly generating value to them, accelerating the flywheel to help your business grow faster, and better.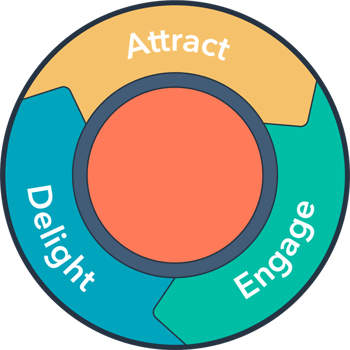 Unlike the funnel, the flywheel uses the momentum of happy customers to drive referrals and repeat sales - A circular process where customers feed growth.
We do this by attracting customers with valuable content, engaging them at the right stage of their buying journey and delighting them with remarkable experiences that provides value, and builds trust to become advocates for your business.
We call this Inbound.
---
Smoother handoff between Agency, Marketing, Sales and Support teams
To maximise and simplify our inbound marketing efforts, we chose to use the all-in-one Marketing, Sales, and Service Platform — Hubspot Growth Platform.
From social postings to email marketing and managing contacts, workflows, forms and landing page, Hubspot is a centralised platform of data and reporting.
Track campaign activities and collaborate across teams to get your marketing performing.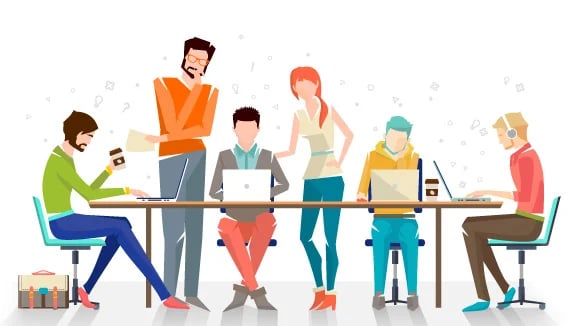 Components of Inbound Marketing
Full Stack Inbound Marketing Services At Your Disposal

Digital Strategy Workshop
The Digital Strategy Workshop will empower you to understand your customers and their buying pattern thoroughly, make informed decisions aligned with your business goals and develop targeted content to attract prospects.

More about Digital Strategies »

Lead Generation



Lead generation is the fuel for your marketing and sales efforts, and where your revenue begins. With our inbound approach, make use of relevant content to attract and convert strangers into leads.

More about Lead Generation »

Paid Media
Promote your content with paid online advertising, such as Google Ads Pay-Per-Click (PPC) campaigns, Facebook Advertising and more, which can help to:
Attract New Leads

Nurture Current Leads

Re-engage Old Leads

Capture Missed Opportunities

SEO Audit & Strategy
To improve your website's Search Engine Optimisation, our SEO strategy is made up of:
On-site and local SEO

Topic Clusters and Pillar Pages

Consistent and Quality Content Creation

Onboard & Manage HubSpot CRM
Work in one system with your team using the HubSpot CRM to see a full picture of how your marketing and sales efforts are contributing to business growth.

Video Marketing
More than 50% of consumers prefer video content over other forms. Video marketing increases engagement on your digital and social channels, educates your customers and adds a layer of personalisation to your growth strategy.

Social Media Management
Social media is a powerful tool to nurture and engage with your audience. Keep your followers interested by posting new, informational content that links back to your website where they can learn more and further convert.

Content Creation
Content creation is a great way to gain the attention and earn the trust of your buyers. Our well-developed content strategy is made up of:
Website Content and Downloadable Content Offers

Blogs and Pillar Pages

Video Content

Email Nurturing

Social Media Content

Email Marketing
Build effective and segmented email campaigns that deliver content targeted to your buyer's needs. Engage with them in a more personal and informed way than ever before.

Website Optimisation
Improving user experience and increasing conversions should be the goal of any website optimisation strategy. Your website's UI should be intuitive and navigable. Visitors should be able to find everything they are looking for and convert when they are ready.

Workflow & Lead Nurturing
With workflow automation, help nurture your leads through the buyer's journey by sending emails that deliver the right content to the right person at the right time.

ROI Assessment & Reporting
Assessing ROI can be difficult because it requires a lot of measuring, analysing, and determining the key metrics for success. Steer your strategies in the right direction with our reporting dashboards, which help uncover KPIs that better inform your teams and deliver more impactful insights.
We Understand Our Clients
A Strategic and SMART Partner for Higher Education

clickTRUE is a very result oriented marketing partner which helps us to achieve business goals. They provide practical solutions through a structured and logical methodology. A smart marketing partner for any revenue driven business.

Daren Kang, NTU
January 10, 2019
Trusted & Knowledgeable Team for Energy and Sustainability Industries

clickTRUE is professional in engaging our stakeholders and they have invested a lot of time helping us in optimizing our campaigns to match expectations. They are quick and put client's interests before theirs. It was seamless working with clickTRUE as they are real solutions providers. Not the typical agency who goes by hour-sheets.

Jacqueline Goh,
Schneider Electric
January 10, 2019
A Good Fit for B2B Firms with Continuous Improvement Needs

We have engaged clickTRUE's retainer service for a while now. Over the years, they have repeatedly demonstrated their digital thought leadership by helping us design and execute campaigns that not only get us leads, but proven to convert to revenue for the business. Our team has also benefited greatly from their regular engagements.

Yew Seng Loh,
Singapore Press Holdings
October 03, 2018